Mire jó a Colpofix® hüvelyi gélspray?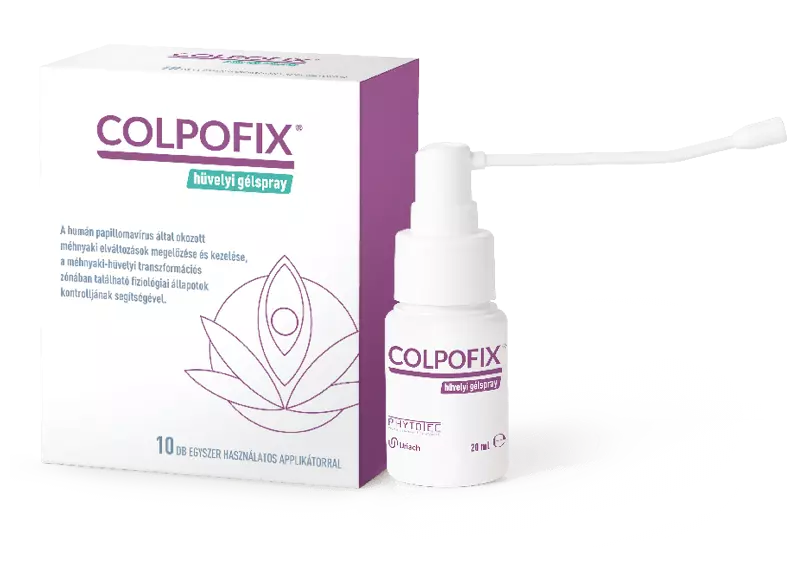 Vény nélkül kapható gyógyászati segédeszköz
A humán papillomavírus (HPV) által okozott méhnyaki elváltozások megelőzésére és kezelésére alkalmas a méh­nyak hüvelyi részében található, úgynevezett transzformációs zóna élettani körülményeit szabályozó mechanizmus révén.
Klinikailag igazolt hatás
A Colpofix hatásosságát egy 999 beteggel végzett klinikai vizsgálat eredmények támasztják alá.
Innovatív hüvelyi gélspray
A Colpofix egy innovatív gél ami a befúváskor folyadékká alakul, ezzel biztosítja az optimális eloszlást a kezelt területen, majd ismét gél állapotot vesz fel, amivel megelőzi a visszafolyást
Egyedülálló összetétel
Összetevői egymást segítve fejtik ki hatásukat
Higiénikus használat
Egy doboz Colpofix 10 darab egyszer használatos applikátort tartalmaz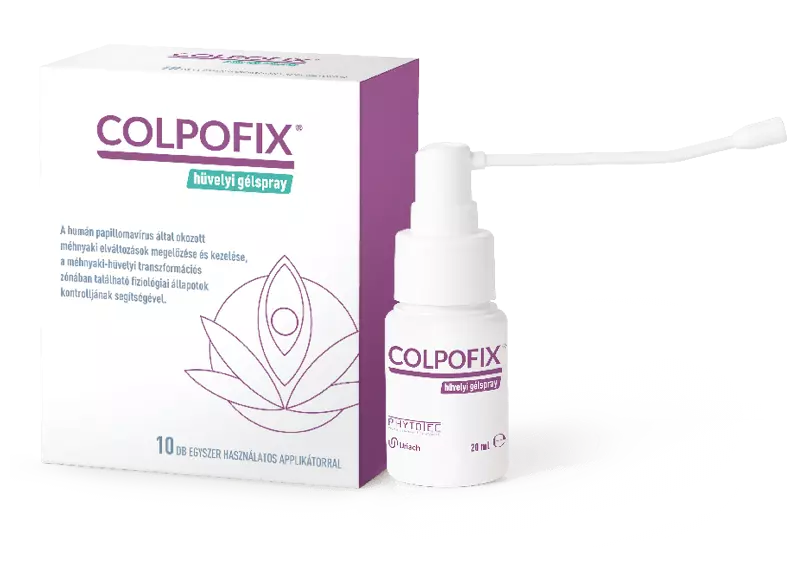 Vény nélkül kapható gyógyászati segédeszköz
A Colpofix ® hüvelyi gélspray hatása klinikailag igazolt8
999 beteg vizsgálati eredménye alapján elmondható, hogy a Colpofix 96%-ra képes javítani az elváltozások eltűnésének arányát a terápia nélküli várakozáshoz képest.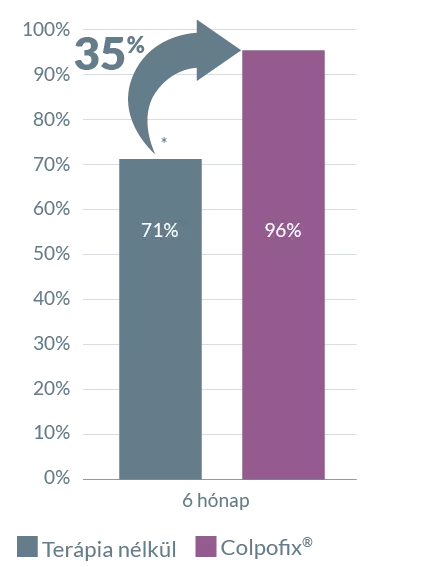 A Colpofix ® hatóanyagai egymást kiegészítve fejtik ki hatásukat
A Colpofix az egyetlen innovatív hüvelyi gélspray a HPV okozta méhnyaki elváltozások kezelésére és megelőzésére. Hatását a méhnyak-hüvely transzformációs zóna élettani körülményeinek befolyásolásával fejti ki. A Colpofix innovatív készítmény, mind összetétel, mind felhasználási mód szempontjából. Ez egy tixotróp tulajdonságokkal rendelkező gél, amely az alkalmazáskor kifejtett mechanikus nyomás hatására folyadékká alakul át, felvitelét követően azonban ismét gél formátumúvá válik. Az applikátor egyedi, ergonomikus kialakítása lehetővé teszi a nyálkahártyához tapadó készítmény egyenletes és hatékony eloszlását a méhnyaki-hüvelyi nyálkahártya felszínén, illetve mélyrehatóan is, elkerülve a visszafolyást.

Méhnyaki elváltozások visszafejlődése
999 beteg adatai alapján elmondható, hogy a Colpofix-szel kezelt nők  96 %-ában elősegíti az enyhe fokú méhnyakelváltozások visszafejlődését és az újbóli hámképződést, mindössze 6 hónap alatt.

Protektív hatás
A Colpofix megvédi a hüvelyhám érintett területét a külső fertőző kórokozók káros hatásaitól.
Az egészséges hüvelyflóra helyreállítása és fenntartása
A  HPV-fertőzés általában a hüvelyben élő kórokozó mikroorganizmusok túlzott  szaporodásával jár.

Napi 1x
5 befúvás szükséges, lefekvés előtt
A hónap első 20 napjában
folyamatosan kell használni a készítményt

3 hónapon keresztül
kúraszerűen szükséges alkalmazni
Weboldalunkon a következő publikációkra hivatkozunk:
 Kim, H. S., Hong, J. T., Kim, Y. & Han, S.-B. Stimulatory Effect of β-glucans on Immune Cells. Immune Netw. (2011). doi:10.4110/in.2011.11.4.191.
Akramiene, D., Kondrotas, A., Didziapetriene, J. & Kevelaitis, E. Effects of beta-glucans on the immune system. Medicina (Kaunas, Lithuania) (2007).
Wakshull, E. et al. PGG-Glucan, a soluble β-(1,3)-glucan, enhances the oxidative burst response, microbicidal activity, and activates an NF-κB-like factor in human PMN: Evidence for a glycosphingolipid β-(1,3)-glucan receptor. Immunopharmacology (1999). doi:10.1016/S0162-3109(98)00059-9.
De Souza Bonfim-Mendonça, P. et al. β-Glucan induces reactive oxygen species production in human neutrophils to improve the killing of Candida albicans and Candida glabrata isolates from vulvovaginal candidiasis. PLoS One (2014). doi:10.1371/journal.pone.0107805.
Majtan, J. & Jesenak, M. β-Glucans: Multi-functional modulator of wound healing. Molecules (2018). doi:10.3390/molecules23040806.
Russo, P. et al. Beta-glucans improve growth, viability and colonization of probiotic microorganisms. Int. J. Mol. Sci. (2012). doi:10.3390/ijms13056026.
Milani, M., Molteni, B. & Silvani, I. Effect on vaginal pH of a polycarbophil vaginal gel compared with an acidic douche in women with suspected bacterial vaginosis: A randomized, controlled study. Curr. Ther. Res. – Clin. Exp. (2000). doi:10.1016/S0011-393X(00)90004-3.
Stentella, P. et al. Efficacy of carboxymethyl beta-glucan in cervical intraepithelial neoplasia: A retrospective, case-control study. Minerva Ginecol. (2017). doi:10.23736/S0026-4784.17.04053-9.